Understanding elbow osteoarthritis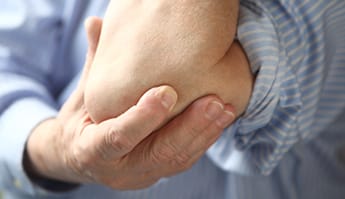 Elbow osteoarthritis is often caused by repetitive gestures or movements. These repetitive movements can thus cause lesions or microtraumas to the elbow joint. This is why elbow osteoarthritis, although more uncommon than knee osteoarthritis (affecting the knee joint) or hip osteoarthritis (osteoarthritis in the hip joint) is often diagnosed:
• In athletes: table tennis players, tennis players, squash enthusiasts, paddle tennis federation members, or even badminton players, etc., clearly concerning the main racket sports
• In professionals with particularly repetitive activities: hairdressers, painters, builders, etc. Generally, trades exposed to musculoskeletal disorders in which the arms are subjected to specific strain as used repeatedly.
Evaluate your joint pain and learn how to recognise the symptoms of elbow osteoarthritis.
Diagnosing elbow osteoarthritis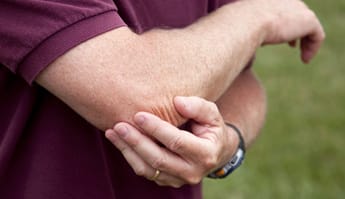 Before a medical examination or radiological examinations to confirm the diagnosis of elbow osteoarthritis, see the list of symptoms affecting the elbow joint. Information for rheumatologists or patients with osteoarthritis.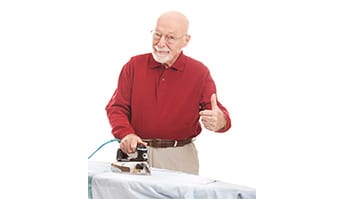 Read the practical advice on the virtual patient sheet to learn how to live with elbow osteoarthritis.
Managing and treating elbow osteoarthritis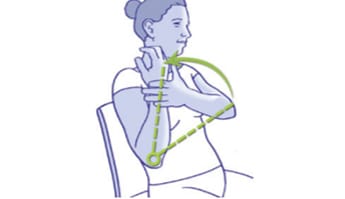 Look at the exercises you can do regularly to slow progression of early elbow osteoarthritis. You can use our clear and detailed exercise sheet to do your exercises at home.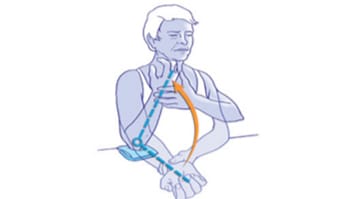 It is not always easy to exercise when you have an advanced osteoarthritis. However, it is still possible to reduce the functional discomfort with some special exercises.
Living with elbow osteoarthritis: tips for daily living
A joint affected by osteoarthritis tends to become damaged, especially if it is not diagnosed or incorrectly diagnosed. Elbow osteoarthritis is caused by damage (sometimes rapid, otherwise repeated) to the cartilage which surrounds the joint. These repeated microtraumas or severe cartilage damage can arise from various mechanical or even biological mechanisms and cause fissures. The cartilage then heals but in the form of fibrocartilage (weakened) and the more the latter has to reform, the more "healing" is difficult, fragile and painful in the long-term.
Cartilage thickness is reduced, generally leading to more or less severe pinching felt in your elbow joint. Also, the damage to the cartilage also releases substances inside the joint which irritate the elbow's synovial membrane. Elbow osteoarthritis (as for all areas likely to be affected by osteoarthritis) must be diagnosed as early as possible. In this way, the osteoarthritis patient can adapt their lifestyle to the disease, do the appropriate exercises and learn which daily household or work chores are likely to aggravate their disease.