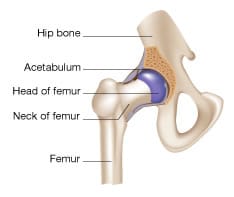 The placement of a hip prosthesis can replace either one of two joint surfaces where the cartilage is worn, or both: the femur head (and hip) and the acetabulum.
The prostheses used are made then, as the femur, a head (ball) and a collar that will replace respectively the head and neck of the femur. The neck of the prosthesis is extended by a tail that is anchored inside the femur.
On the other hand, the acetabular cavity is strengthened by the part of the acetabular prosthesis (cup).
The hip replacement procedure
Fitting a prosthesis is major surgery.
It should, if possible, be carried out in an establishment specialised in prosthetic surgery. The length of hospitalisation is usually one week or ten days.
This operation requires general or epidural anaesthesia. This will depend on your general condition and the type of operation required to fit your prosthesis.
A blood transfusion may be necessary. The length of the operation can vary from between 1 and 2 hours. Following this operation, X-rays are made to monitor your hip. In addition, it is possible that there is a certain amount of pain on awakening, hence, often painkillers will be prescribed on a drip.
The days following the operation
The return to walking must be undertaken gradually; it is important that the patient follow the advice of the physiotherapist or the medical team caring for him or her. Typically a chair is needed to be able to move yourself on the first day. Gradually, the patient resumes walking, often with crutches to relieve muscles and to avoid putting too much pressure on the hip (three to four weeks).
Rehabilitation is not mandatory. It may be necessary if your daily activities quickly require significant exertion. (Your house is on several floors, you must resume your normal activities very quickly, etc.)
After one month the patient can usually resume normal walking. However, it is recommended that the patient use a cane to help relieve their hip. In most cases, the patient can return to work after 2 ½ months to 3 months following the operation.
However, after such an operation, the patient should be regularly monitored by their doctor or a rheumatologist. To do so this should include regular visits to the surgeon: 2 to 3 months after surgery, then towards the sixth month and one year later. Thereafter, an annual check-up is desirable.
The results
Pain and mobility
Today, about 30,000 people a year receive a hip replacement. Generally, it provides a significant improvement in mobility and a large reduction in pain for several years. However, in younger subjects, it is possible for some pain to recur after around fifteen years due to a loosening of the prosthesis. It is then necessary to consider changing it. Nowadays, fitting a new prosthesis gives good results.

The scar
Generally, the scar is located on the buttock. But depending on the surgeon, it is possible that it is on the outside (or back) of the hip. 
The type of prosthesis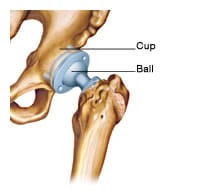 There are several types of hip prostheses. They differ depending on the materials used:
Prosthesis with a metal or ceramic ball that is inserted into a polyethylene socket
Prosthesis with ceramic ball and acetabulum
Metal prosthesis with a metal socket placed in a block of polyethylene