… of osteoporosis?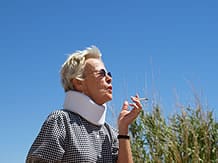 1. Gender: women are more exposed than men to osteoporosis
2. Age: older people and especially women because of the loss of oestrogen protection which disappears after the menopause
3. Heredity
4. Smoking 
5. Excessive consumption of alcohol
6. Being underweight.
7. A lack of physical activity
8. Insufficient sunshine: it can cause a deficiency in vitamin D. Remember that the sun's ultraviolet rays enable the synthesis of vitamin D in the skin. Vitamin D promotes calcium absorption by the gastrointestinal tract.
9. Hormonal factors: the lack of oestrogen after the menopause
10. Taking certain medications: there are treatments that promote the occurrence of osteoporosis

Sources : le GRIO http://www.grio.org/
… of osteoarthritis?
The risk of developing osteoarthritis increases primarily based on factors that promote the wear of the joints:
1. Gender: Women especially after the menopause are more prone to osteoarthritis
2. Inappropriate physical exercise. Overworking the joints, in particular, by too intensive sports training or repetitive movements at work are likely to lead to osteoarthritis.
3. microtrauma : Microscopic lesions, due to too much stress, can cause trauma to the joints and are likely to lead to osteoarthritis.
4. Excess weight : This causes extra work for the joints
5. Congenital anomalies : Congenital dislocation of the hip
6. Genetic defects affecting the structure of cartilage : To learn more about the formation mechanisms of osteoarthritic lesions, take a look at the section on "Understanding."