…of osteoporosis?
The complication of osteoporosis is bone fracture.
While osteoporosis weakens all the bones, however, there are three types of most common fractures which occur at different ages.
The fracture of the lower end of the forearm (wrist) or Colles' fracture is the earliest.
This is not a spontaneous fracture like a vertebral fracture, but it is often the result of a fall with a protective reflex (direct impact on the palm of the hand, the arm being extended). With any Colles' fracture in a woman aged between 50 and 65 it is essential to carry out an examination of their bone density (bone densitometry) and eventually proceed with a treatment for osteoporosis.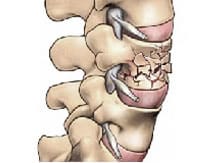 Vertebral fracture called "vertebral compression fracture" affects women later, about ten years after the menopause, after 65 years of age. Often, it reveals osteoporosis. The main symptom is the sudden onset of severe pain in the spine.A vertebral compression fracture can affect several vertebrae. This results in a more or less, significant reduction in size and deformities of the spine. While the acute pain of a vertebral compression fracture eventually disappears, there may be residual pain, often exacerbated by exertion, exercising and standing and which are relieved by rest.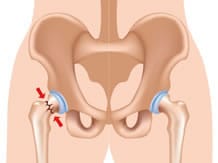 A femoral neck fracture occurs even later (from 75) and is often the result of a fall on bones which have been very weakened by osteoporosis. It has a certain degree of gravity because of the possibility of the occurrence of postoperative complications related to the general procedure (phlebitis, pulmonary embolism, infections). The fitting of a prosthesis can also be the source of postoperative complications (infection, dislocation, wear, etc.). The occurrence of a fracture of the femoral neck in elderly people often results in the loss of independence and being placed in a care home.
Sources : le GRIO http://www.grio.org
…of osteoarthritis?
Complications of osteoarthritis depend more on its site.
In addition to pain that can become unbearable for some patients, stiffness, deformity, ankylosis, and difficulty with certain movements according to the affected joint, can quickly become very disabling and warrant surgery.