This ancestral process for therapeutic purposes uses the physical and chemical properties of water. Thermalism uses fresh water and mud in contrast to thalassotherapy which highlights the virtues of sea water and algae.
Can thermal cures help in osteoarthritis?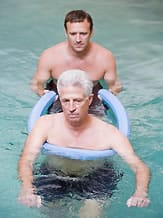 Some studies of osteoarthritis of the knee, hip and fingers highlight the benefits of the treatment on pain, mobility and the well-being of the patient. It can also help to reduce the consumption of analgesics and anti-inflammatory drugs.
Osteoarthritis is now the first indication of thermal cures in rheumatology.
It applies to all parts of the body:
hip: the cure is often helpful if surgery is impossible
fingers, of which the thumb
knee
spine
It is also recommended for persistent postoperative pain and sequelae, in particular following surgery on the spine.
Contraindications:
You should not undertake a cure if one of the following cases applies to you: 
you have a flare-up of inflammatory arthritis (rheumatoid arthritis, psoriatic arthritis, etc.)
you have cancer with bone metastases
you are taking an immunosuppressive treatment
you have congenital or acquired immunosuppression
What treatments are provided?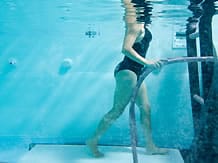 General treatments include:
the application of mud;
hot steam baths;
jet sprays - underwater showers;
individual and group sessions of physiotherapy;
massages;
mobilisations in the pool;
sometimes mud baths that can help to promote movement.
Local treatments include:
local applications of mud;
warm baths;
massages;
foot showers;
hand showers;
sessions of physical therapy in water;
the use of steam which acts on the pain or swelling.