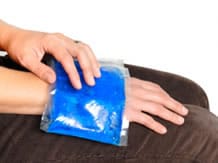 Thermal compresses are generally used for temporary or daily pain relief. Depending on the model, they allow applying heat or cold to painful areas.
Thermal compresses are closed pouches filled with a gelatinous product capable of absorbing heat and cold and quickly and releasing it onto the painful joint for an hour. These thermal compresses can be purchased in pharmacies or shops selling medical and paramedical supplies. (Non-refundable and reusable).
They have no curative effect in the treatment of osteoarthritis, but their application is likely to temporarily soothe certain types of osteoarthritic pain.