What is it used for ?
Joint repair surgery is surgery that aims to correct certain defects of the bones that are responsible for an abnormal morphology of a joint. Hence, it may involve correcting the alignment of a knee or a malformation of the hip.
How does it work ?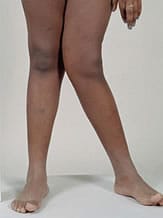 Morphological defects lead to abnormal pressure on certain parts of the cartilage of the joint at issue, hence greater wear and tear. By correcting an existing defect, the pressure will become more evenly distributed over the whole surface of the cartilage which will thus become less worn. 
So when such defects exist it is easy to understand the interest in performing these procedures as early as possible. That is to say, at the onset of symptoms of osteoarthritis. Indeed, if the cartilage is too damaged, the procedure will not be effective.
What precautions need to be taken ?
Osteoarthritis of the knee and hip can benefit from this type of procedure. 
This is major surgery: it requires around 10 days hospitalisation and you are unable to put your weight on the operated leg for 6 weeks. 
The risks are the same as for any surgical procedure (phlebitis, pulmonary embolism, anaesthesia complications) as well as the risk of infection.