The diagnosis of osteoarthritis is primarily clinical.
As a general rule, the doctor makes the diagnosis of osteoarthritis after having questioned you about the nature of your pain and the appearance of your joint impairment, and after having examined you: revival of the pain on pressure and/or mobilisation of the joint, decreased joint mobility, or swelling around the joint are signs that suggest osteoarthritis. They generally occur on exertion and are relieved by rest. There may be inflammatory flare-ups of osteoarthritis which, in this case, wake you up at night and result in morning stiffness.
Radiological signs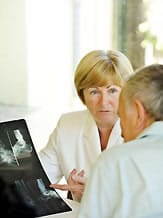 They enable confirming the diagnosis
These are mainly:
Narrowing of joint space in the main pressure zone of the joint;
The presence of osteophytes that expand the joint contours;
Condensation of the subchondral bone (located below the cartilage) in the region of the joint space narrowing;
Geodes that are inconsistent and established in the condensation (rounded appearance of areas, grey in the condensation); At an advanced stage, there is erosion of the subchondral bone located in the pressure zone where the cartilage has disappeared.
Biological signs
There are no specific biological signs of osteoarthritis
The synovial fluid, generally absent outside of inflammatory flare-ups, is called "mechanical" (aspect of cooking oil), that is to say clear, viscous, containing less than 1,000 white blood cells / mm3, with less than 50% of polynuclear cells.
Other examinations
In practice, a simple X-ray is usually sufficient for diagnosis and monitoring.
However, exceptionally, in some cases, other tests may be prescribed especially in cases of doubt in the diagnosis: arthrography, can, bone scintigraphy, MRI, ultrasound.
It is unusual to resort to a synovial biopsy. Its practical value is very limited.