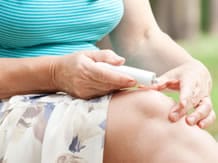 Your doctor may have already prescribed an anti-inflammatory gel or ointment for you to apply to a painful joint.
They are particularly suitable for small joints such as fingers, for example.
They have the advantage of acting quickly and diffusing very little in the blood which limits the risk of adverse effects of an anti-inflammatory treatment, especially for people suffering from stomach problems.